---
Reading Time:
4
minutes
RON REED is tuning into the new voices of the Tour de France – and likes what he hears:
IS ANYBODY missing the dulcet tones of Phil Liggett yet?
Hopefully Phil, who I regard as a friend or at least a workplace acquaintance with whom I have often shared a glass or two of red and some pleasant conversation socially when the day's bike racing is over or yet to begin, will forgive me if I say that I'm not.
That's definitely not meant to be a put-down. It's just that with the first few stages of the Tour de France having been run and won, I am enjoying the commentary of Matthew Keenan and Robbie McEwen on SBS's upgraded telecast into the wee hours of each morning. As I was confident I would.
As the many thousands of viewers – some of them cycling fans, many who can be more accurately described as theatre-goers – who tune in religiously to the world's biggest bike race every year have now discovered, Liggett and his long-time sidekick Paul Sherwin are no longer the mainstream English language commentators except in America, where they are still the voice of the race for NBC.
In Australia, we are now hearing two Australians – and I reckon it is probably going to prove to be a very well received move by SBS and the Amaury Sports Organisation, the French owners of the event.
They have given the job to Keenan, a Melbourne cycling enthusiast and former amateur rider who has turned his passion for the sport and his encyclopaedic knowledge of it into a full-time career talking about it on a diverse range of platforms. He is very good at it.
Alongside him is Queenslander McEwen, one of the four or five best road racers Australia has ever produced, winner of a dozen stages of Le Tour among many other major triumphs. He was a colourful, aggressive performer on the bike – who can forget his shoulder-to-shoulder clash with compatriot Stuart O'Grady at the Tour a few years ago? – and is equally entertaining off it. His credibility is beyond question, of course.
Sherwin's long-standing and sometimes under-estimated role has been based on his status as a former pro rider but he was never in McEwen's league.
McEwen and Keenan have had plenty of practice working together and make an ideal combination.
They didn't have to wait long to present their credentials. The opening stage, a time trial where the cyclists ride alone, making it simple to keep track of and generating minimal drama, did not challenge them unduly. But stages two and three turned up the heat.
The first of those, a 203 km race from Dusseldorf in Germany to Liege in Belgium, was largely conducted in the rain, making conditions treacherous and leading to a spectacular crash that took down several big names, including Australian race favourite Richie Porte.
It finished with a helter-skelter bunch sprint where the winner, Germany's Marcel Kittel, surged from the pack in a frenzied charge to the line.
The next night, a 207 km hit-out across three countries, Belgium, Luxembourg and France, produced a similarly thrilling finish, with Slovakian superstar Peter Sagan triumphing narrowly.
How hard do the commentators have to work in these scenarios?
I've always thought that calling horse racing was the most difficult gig in sport outside the playing field, keeping track of 20 or more sets of colours that keep changing order for more than three minutes in the case of the Melbourne Cup.
But the TDF starts with 198 riders in 22 teams, each having nine dressed identically, and the last kilometre or two of the flat stages are usually crowded and chaotic with positions changing at 60 kph, crashes common, and centimetres separating the contenders on the line.
Describing all that rapidly and accurately is beyond difficult. Keenan believes there is no more challenging task in sports commentary anywhere.
And before it gets to that, especially now that SBS are for the first time going to air digitally or on TV for the entire stage every day, he and McEwen have to talk non-stop for at least four hours, sometimes five. That's an awful lot of facts, opinions, background information and statistical data, not to mention history lessons about all those castles and chalets.
From what I have seen so far – and with Wimbledon also on, you can't watch every minute of everything – they are making a very good fist of it.
Liggett's departure from centre stage – he and Sherwin are still doing summaries _ has been greeted with mixed feelings, even by Keenan who admits he feels like he has shot Bambi. But there is no angst between the pair who have worked together for years as mentor and protégé and are firm friends.
Liggett is a bit of a cult figure in Australia. He visits for five weeks in January and February – the Summer of Cycling – each year and every time he arrives at a race he is in constant demand for selfies, autographs and a chat, which he has never been known to refuse.
However, at 73 he is not getting any younger and on social media it has not been difficult for some time now to detect a growing feeling that he is making more mistakes than he used to.
In all sports media, no-one lasts forever (although here at Sportshounds we are attempting to defy that truism!). Even Richie Benaud had to eventually take a step back on Channel 9's cricket coverage. Liggett is probably not quite as iconic as the former Test captain but after 44 years in the caper, including 16 Olympic Games, he is the best there has been in his own sport.
So far, Keenan and his feisty little mate seem to be filling his massive boots confidently and well.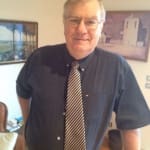 Author:
Ron Reed
RON REED has spent more than 50 years as a sportswriter or sports editor, mainly at The Herald and Herald Sun. He has covered just about every sport at local, national and international level, including multiple assignments at the Olympic and Commonwealth games, cricket tours, the Tour de France, America's Cup yachting, tennis and golf majors and world title fights.
Comments
comments
0 comments