---
Reading Time:
4
minutes
BOB HART provides his strict recipe for staying safe, sane and well-nourished in your own backyard.
There are at least two disturbing issues relating to the way many Australians use their barbecues. The first, naturally, relates to the things they cook on them, and the way they cook them. The second, however, relates to the things they DON'T cook on them, and is equally vital, I reckon, to the health, well-being and all-round culinary decency of the nation.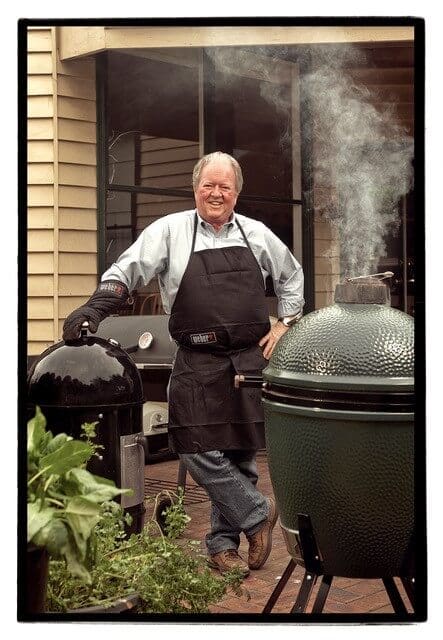 But first things first: if you happen to know anything at all about cooking on a barbecue – whether it's a gas job, a charcoal-fired device or even an electric abomination – a quick peep into the average Aussie backyard late on a Saturday arvo should have you running for the hills and possibly seeking solace in Eastern mysticism. Or even veganism.
And yes, it IS that serious. There are a few basic rules in barbecuing, and there is simply no way around these. And if you are unfamiliar with them, and now apply them honestly to assess your own backyard approach, you may be surprised. I would like to say there is no need to be alarmed, but that would be untrue. For offenders, there is every reason to be deeply alarmed.
So, consider these three Golden Rules for eating well and cleverly and staying safe in your own domain, according to the authoritative and respected grill master of the Australian Barbecue Academy. And, yes, sorry, I forgot to mention: that's me.
The rules are:
Always cook on a grill, NEVER on a hot-plate. Grills impart grill-marks on food; hot-plates impart skid-marks. And as a general rule, NEVER eat anything with skid-marks on it. And make a note: anyone who cooks on a hotplate is an idiot.
Always cook with the lid down, NEVER with the lid up. Cooking on a barbecue with the lid up is not unlike driving down the road with your car doors open, or cooking in a kitchen with the oven door gaping. In short, unwise. Another note: anyone who cooks on a barbecue with the lid up is an idiot.
Ensure that all food served in the course of a backyard barbecue is freshly prepared on the barbecue. Anyone who serves non-barbecued material – stuff like tired curls of ham-like substances, lumps of mediocre cheese or pretty much anything offered for sale at a local supermarket – at their own barbecue is a barbarian. And almost certainly an idiot. And quite possibly a Collingwood supporter.
So there: I've shared a few friendly and (I trust) helpful observations. And if you now follow them, I have good news: your life is about to change. For the better. Trust me. I'm a journalist. And one who eats better than most kings. And almost all other journalists.
So, next time you decide to send up smoke from your own backyard, try these simple and delicious opening dishes:
1: A barbecued brie – ideally made with a French double-brie called a Clarines which is sold in a round box. Simply open the box, remove the cheese, remove the paper from the cheese, shave off a little of the top, white crust, and return the cheese to the box. Then, place the box, inverted, back into the lid for extra strength. Spread the top of the cheese with a layer of apricot jam, and then sprinkle it with a thinner layer of herbes de provence – a widely available French herb mix. Top with a few drops of EV olive oil, and bake in any barbecue (on the grill, and ideally on a trivet on the grill, if you have a trivet) at around 200C for 15 minutes, or until the cheese begins to froth. Carefully lift the cheese off the grill on to a heatproof platter, and serve with shards of warm baguette – sourdough if possible. You can work out the rest…
2:  Buffalo wings – actually chicken wings, but named by the (woman) chef who created them, and who came from Buffalo, New York – must qualify as one of the most popular casual foods in the US. To invite mates around to watch American footy without serving at least one tray of buffalo wings is a comparable offence to inviting mates around to watch the AFL in Victoria without laying on the party pies. Americans, however, are inclined to deep-fry their wings – a method far inferior to barbecuing them, but what do Americans know?
Try this:  First, crumble a quantity of blue cheese – ideally Roquefort, but Gorgonzola piccante also works – into Best Foods or Hellman's mayo. Try two generous chunks of cheese, each about the size of a golf ball, in a cup of mayo. Mash, and then thin the mixture with fresh lemon juice. Cover and chill.
Prepare a dozen wings: snip off and discard the tips and divide the remaining section into two by slicing through the joint. Drizzle with EV olive oil and season with sea salt and freshly ground black pepper. And then grill.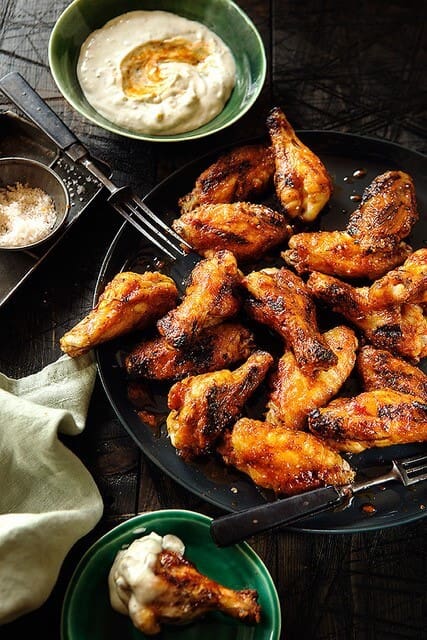 Any decent barbecue with a well-oiled cast iron grill will do the job. Position the wings on the grill and drop the lid. Turn the wings after five minutes, and again after another five. In fact, turn them as often as you like. They will cook in around 15 minutes.
Now, make a chilli glaze: Place 125g unsalted butter in a saucepan over gentle heat, squirt sriracha chilli sauce (widely available, but use the Tuong Ot "Rooster" brand) over the butter until it is well covered, and stir as it melts. Ensure the butter and sauce are combined, and do not let them split.
Place the cooked wings in a bowl and pour on the butter and chilli glaze, tossing to coat evenly. Lift on to a platter to drain and cool slightly before serving alongside the dip. Pick one up, plunge it into the blue-cheese dip, eat, be amazed. But don't double-dip.
And do not, under any circumstances, move to Buffalo, NY: it is nowhere near as cool a city as these wondrous wings might suggest.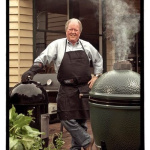 Author:
Bob Hart
BOB HART worked in Fleet Street in the 1960s as a showbiz writer and columnist. After a spell in marketing he returned to Australia and turned his attention to another great love: food. He has written a number of books on the subject and the latest, Bob Hart's Barbecue Unplugged, will be in shops in late September.
Comments
comments
0 comments