---
Reading Time:
6
minutes
AUSTRALIA'S most experienced cycling commentator, former Australian road champion JOHN TREVORROW – on the spot at the Tour de France – wonders whether a world champion has been taken for a ride:
SLOVAKIAN superstar Peter Sagan's controversial expulsion has been, by far, the most contentious event in an absorbing first week of the 104th Tour de France. Most believe – and I agree – that he has been treated too harshly over the crash that brought down rival sprint star Mark Cavendish near the end of stage four, but inside the peloton there appears to be mixed feelings about how much sympathy he deserves.
There is a strong school of thought – spelt out by Australian Mark Renshaw, the last rider to have been thrown off the world's greatest bike race because of illegal interference in a bunch sprint – that the reigning world champion is a bit of a law unto himself in the chaotic bunch sprints which are his very tasty bread and butter, and that the race jury may have taken his history into account and decided that he needs to tone down his act.
Two things can be said for certain: no sporting event would want to lose a world champion from the contest, especially so early in proceedings, so the incident has inevitably diminished what is proving to be a very competitive race on all fronts. Secondly, every cloud has a silver lining for somebody and in this case one of the beneficiaries is Australian Michael Matthews, whose strong showings so far have put him in contention for the sprinter's green jersey, which Sagan was attempting to win for a record-equalling sixth time.
So, what actually happened – and why? Three days later, and after it has been replayed a million times in real time, slow motion and from every conceivable angle, there is still no clear consensus on that and probably never will be. Even in my own head, and drawing on my own long (and long-ago) experience as a professional rider who loved the sprint finishes, I have had trouble coming to an unequivocal conclusion.
What we all know is that as the contenders were gathering themselves for the charge to the line in Vittel, Cavendish moved through on the fence with Sagan coming up beside him, they made contact with what looked like an errant elbow. Cavendish hit the deck hard, with two other riders coming down on top of him, and broke his shoulder, putting him out of the race. So, the tour lost not one star but two _ the British veteran is an all-time great of the sport, having won an incredible 30 stages of the French marathon and 48 across all three Grand Tours.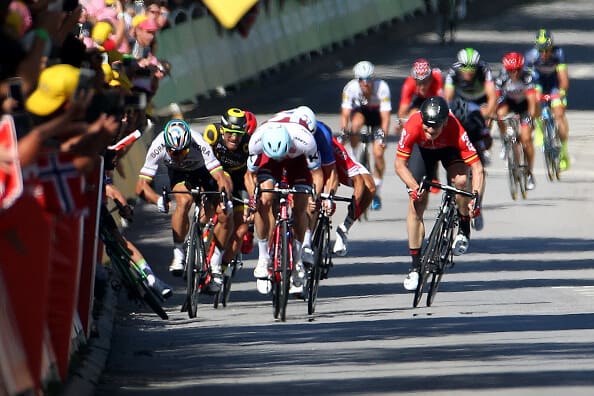 However, he also has his share of detractors who have long regarded his riding style in tight situations to have plenty of room for improvement, among them Australian champion Simon Gerrans, who he took out recklessly in Le Tour a couple of years ago. Since this latest eruption, he has had to turn off his social media because he has been getting so much flak, which is a bit absurd – he is the victim after all. Cavendish has described the attacks as "vile and threatening," saying: "Everyone is entitled to their opinion but please remember it is a sport." He said Sagan had apologised and there were no hard feelings.
Sagan, who has made it abundantly clear he does not regard himself as having done anything wrong, has tweeted a thank-you to some 20,000 fans who have agreed with him and expressed their anger.
It reminds me of the footy where fans either agree or disagree with the umpire from their own team's perspective.
On my first viewing, taking in the flick of the elbow on the overhead vision, I thought it was definitely Sagan's fault and agreed that his expulsion was warranted. Now, having watched it so many times that it rolls around in my head in bed at night, I think it was a bit harsh and that the correct call would have been a fine and relegation to last in the peloton – but still in the race.
When you slow it down it becomes apparent – to my eyes, anyway – that it wasn't the flick of the elbow that brought Cavendish down. It was Sagan's backside that put him into the fence as he tried to follow stage winner Arnaud Demare through a closing gap. The elbow came after the initial contact and had nothing to do with the crash, in my opinion. But, yes, it did look bad.
It has been interesting walking around the team buses chatting to other experienced riders and their handlers about Sagan. While most seem to like him, I was surprised by a strong sentiment that he needed to be pulled into line. There is a genuine appreciation of how important he is to the sport _ long-haired, charismatic and extremely successful, he is probably the No 1 character in it. He attracts the sponsors, the crowds and the media.
In some respects, it is him and not Chris Froome, the winner of the last three Tours, who is king of the peloton.
But he carries baggage as far as dangerous sprints are concerned. Some riders felt he was heavily involved in the earlier crash that day, which brought down race leader Geraint Thomas, as well as another one the previous day.
Immediately after the finish of the stage Sagan rode straight to the Dimension Data – Cavendish's team – bus to apologise. But DD manager Doug Ryder questions why he would do that if he felt he had done nothing wrong.
"He may be saying he was just inquiring about Cav's condition but that's not what happened," Ryder said. "My view? Well, it was a crazy sprint. There was a lot of deviation and some say Cav tried to get through a gap that wasn't there. Well, the gap was there and Cav was following Demare through.
"The jury said at the start of the race that they were going to clamp down because they wanted clean sprinting. Look, Mark is no angel and had some rough sprints in his early days but he has matured. He is not the bad guy here and is very disappointed in the messages and social media attacking him. Mark and our team had nothing to do with the jury decision. He is not the enemy here.
"The broken shoulder is the same type of injury he got early in the Tour in Yorkshire a few years ago but he is incredibly tough and will be back."
Renshaw is Cavendish's lead-out man, as he was when he found himself in Sagan's shoes in 2010 when he clashed with New Zealander Julien Dean, who is now the technical director with Australian team Orica-Scott. I remember being angry at the time about him being kicked off, but, interestingly, Renshaw himself believes the jury got it right then.
"I don't think the jury are silly," he said. "At that point in my career I needed to be brought down a few levels. There are times when the jury has to put some pressure on riders to tone it down a bit.
"Sagan is the king at the moment – for sure he is liked, he is a character, he has charisma, but if you look at his riding style … well, he goes where he wants when he wants."
Australian Olympic gold medallist and former Tour rider Luke Roberts, who is director sportif for Matthews' team, Sunweb, agreed that Sagan's reputation might have worked against him. "The jury would have made their decision on the severity of the movement of Sagan. Past history is definitely taken into account."
Australian Baden Cooke, a former winner of the green jersey and one of the best sprinters of his era, told the Cyclingnews website that Sagan's expulsion was "a great shame for the sport." He was unimpressed by the officiating.
"I would bet that whoever made this decision has never been involved in a big bunch sprint," he said. "I think race commissaires should always have raced a bike, not always professionally but at some level. This is a dangerous sport and we need the people who are calling the shots to understand it."
Cooke, who was famously _ and deliberately _ put into the barriers by Italian rider Paolo Bettini at the 2005 Giro d'Italia, claimed up to five riders contributed to the Cavendish crash, which he described as just a normal racing incident. Sagan was just protecting himself and did not deserve to be even relegated, let alone kicked out, he said.
ON SBS TV, Australian commentator Dave McKenzie, also a former pro sprinter, argued there was no clear intention by Sagan to interfere with Cavendish. "You could argue it was Cavendish's fault because the gap was not there," he said.
And Olympic track gold medallist Scott McGrory, now one of Australia's most respected commentators, agreed with Cooke that it was "an unfortunate racing incident caused by several riders."
He added: "The race officials saw a crash, a broken shoulder, and someone had to be held responsible, so it's goodbye to the world champ Peter Sagan, which is the wrong decision."
The response from readers of McGrory's Facebook post could be summed up in two words: Furious agreement.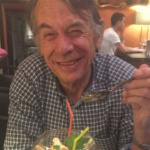 Author:
John Trevorrow
JOHN TREVORROW is a multiple Australian champion road racer and Olympian who has been doing media commentary at the Tour de France for more than 20 years.
Comments
comments
0 comments