---
Reading Time:
4
minutes
RON REED catches up with Fabulous Phil Carman, the football genius who could have been anything…but for a lot of crazy things:
IT'S amazing how long it takes for some stories to be told, no matter how good they are. I can vouch for that. When I was asked by a mutual mate to write a biography of tennis champion Frank Sedgman in 2014, the subject was 86 years old and it was 62 years since he won Wimbledon and the US Open in quick succession and 20 years since he had last wielded a racquet in competition of any sort.
The memory-sapping gap meant that some of the detail was lost in the mists of time but it was still a book well and truly worth the time and effort it took to write it. It would have been a travesty if it had not been written. And, just by the way, he is still going strong at 90.
Phil Carman, 66, isn't as old as Sedgey and he hasn't been out of the public eye for as long, but he, too, has taken an inordinately long time to go on the record about one of the most extraordinary, controversial and ill-fated careers footy has ever thrown up. Why? Well, like Sedgey the simple answer, apparently, is that nobody ever asked him to do so. That would be inconceivable these days when any retiree with half a claim to fame is in the hands of a ghost-writer within days of the final siren, sometimes before it.
For Carman that changed nearly two years ago when a former team-mate at Collingwood, Shane Bond, asked Queensland writer Matt Watson if he fancied the task. Not really having a clue what he was letting himself in for, never having written a book, never having met Carman, Watson agreed. It proved to be an epic task, but a deeply satisfying one, and the result, Fabulous Phil (Brolga Publishing) is now in the bookshops with the pair having done some hard yards on the publicity circuit. This culminated with a function put on by the Footy Almanac website as part of the popular fortnightly Friday lunches, usually featuring old sporting identities as guest speakers, at the North Fitzroy Arms pub, where Carlton legend Perc Jones is the host. The venue caters for just under 100 at a squeeze – at least half as many again somehow crowded in, breaking all records and putting the chef under unprecedented pressure.
That wasn't a total surprise because Carman has always been an attention magnet. But popular? Well, you're entitled to wonder about that. At Collingwood, they reckon he cost them a premiership by getting suspended for whacking Hawthorn's Michael Tuck in a semi-final. He was known to punch-up with his captain Max Richardson on the training track. He famously committed footy's greatest sin by assaulting an umpire when he head-butted boundary umpire Graham Carbery while playing for Essendon. That cost him _ and the Bombers _ a 20-week suspension and when he returned he was immediately reported again, leading to another of his numerous tribunal appearances.
Despite being one of the most brilliant performers of his time _ he almost won the Brownlow in his first season at Collingwood despite missing eight games with a foot injury _ he managed to play only the bare 100 games despite having stints at four clubs, which suggests he was good at wearing out his welcome prematurely. Even his first marriage didn't last the distance.
He was a non-conformist who marched to his own drum, and plenty of old team-mates have never made any secret of how frustrated that made them, especially those Magpies who failed by the smallest of margins to win the 1977 Grand Final after drawing with North Melbourne and then losing the replay. Nobody disputes that Carman's brilliance would probably have made the difference.
It's very much a what-might-have-been story.
Now, at 66, you suspect that there must be regrets – he wouldn't be human if there wasn't. And you'd be right. He doesn't really admit as much but there is an unmistakeable wistfulness when he answers the question with a shrug and words to the effect of, well, that's life and you just get on with it. "I've done a lot of crazy things, really stupid things," he says. It's hard not to feel a little bit sad for him.
By the same token, he had a good time of it. He speaks of an "unbelievable" drinking culture at Collingwood and opposition clubs, saying: "It was great fun. I'll leave it at that…"
Like a lot of unusually-talented people, he grew up not realising he was a genius. Starting out in Adelaide, he says he never thought he would be good enough to play in Victoria, back when the VFL was the be-all and end-all. He claims to still not really realise that he was/is gifted.
"For me, it was always just cross the white line and play," he says.
Now living quietly in Bendigo and working as a market gardener, he remains an athlete at heart. He is superbly fit, has all his hair, and recently broke the world record for indoor rowing, which is one of the most strenuous exercise regimes available.
And he has one footy-related ambition left. He says he has made it known to AFL chief Gillon McLachlan that he would like to find a way to mentor kids in the game. He hasn't had a reply. Given the more lurid aspects of his own time in the game, maybe he shouldn't be holding his breath waiting for one. On the other hand, the footy world has never stopped calling him Fabulous Phil.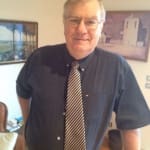 Author:
Ron Reed
RON REED has spent more than 50 years as a sportswriter or sports editor, mainly at The Herald and Herald Sun. He has covered just about every sport at local, national and international level, including multiple assignments at the Olympic and Commonwealth games, cricket tours, the Tour de France, America's Cup yachting, tennis and golf majors and world title fights.
Comments
comments
1 comment