---
Reading Time:
5
minutes
DAN EDDY takes us inside the locker rooms of the great Carlton sides which featured names like Jezza, Percy and The Flying Doormat:
They were a ratbag bunch of blokes, who partied hard. Oh, and did you hear? They could play a bit, too. What those Carlton teams of the late 1970s and early 1980s achieved, winning three premierships in four years, ranks them alongside modern-day powerhouses the Brisbane Lions (2001-04), Geelong (2007-11) and Hawthorn (2012-16). Yet, when discussion centres around who are the greatest teams of all-time, Carlton are missing from the discussion. Why?
Some of the biggest names, and certainly some of the biggest larrikins, to have ever played the game ran down the race for Carlton during this period. Think Alex "Jezza" Jesaulenko, Peter "Percy" Jones, David "Swan" McKay, Geoff Southby, Peter "The Buzz" Bosustow, Kenny Hunter, Jim Buckley, Wayne "The Dominator" Johnston, Wayne "Piggy" Harmes, Warren "Wow" Jones and, of course, Bruce "The Flying Doormat" Doull, to name but a few.
In Larrikins & Legends: The Untold Story of Carlton's Greatest Era, I set out to try and learn about that Carlton team. Who were the people who drove their success? What obstacles did they face? What were the keys to their three premiership triumphs? Why did Alexander the Great walk out on the club just months after leading them to the 1979 flag? As an Essendon supporter, I was forced to put my prejudices towards all things Carlton aside, to get inside the Blues inner sanctum and learn the truth.
What emerged was an understanding of a bond so tight it remains unbreakable to this day. A mateship forged under the brutal training methods of Jezza, which surely ranks at the top of the tree regarding the closeness of any VFL/AFL team in history. Indeed, one of the game's finest coaches and philosophers, David Parkin, admits the Carlton team he coached to the 1981-82 premierships was the most "coachable" team of his almost three decades in the job.
After winning the 1968, 1970 and 1972 premierships, Carlton failed to add another cup to their impressive trophy cabinet at Princes Park over the next five seasons. In that time, three coaches had come and gone: Ron Barassi (1965-71), John Nicholls (1972-75) and Ian Thorogood (1976-77). McKay calls it the "lost years" at Carlton, suggesting the team had the talent to have won the premiership every season during that period. But alas, they had failed to achieve their potential.
When, three rounds into the 1978 season, new coach Ian Stewart quit citing heart problems, the club had hit rock bottom. While president George Harris set about trying to find a replacement – an almost impossible task as the season had already started – former champion Serge Silvagni was handed the reins. Even Serge, with his great love for the club, was reluctant to take it on. By the end of round six, Carlton's record was 1-5, and another lost year seemed likely. But, a conversation between friends was about to spring one of the most remarkable coaching appointments in the club's history, and with the unlikeliest of people.
Legendary sports commentator Michael Williamson, a close friend of Harris and Jesaulenko, was the man who planted the seed in the president's mind. "I said to George, "Why don't you appoint Jesaulenko?" Williamson explained. "But he said, 'Over my dead body!'" However, when the cupboard remained bare, Harris reluctantly approached his star play-maker, just as Williamson had suggested. "I couldn't get anyone else," Harris later wrote, "so we appointed Jezza with considerable trepidation." Harris called it a "bottom of the barrel" choice.
Like his former teammate in Silvagni, Jesaulenko, too, initially turned down the offer to coach. "I didn't want to coach," he explained many years later. "I went back the next day and said to George, 'No, I'm not going to do it George, pick someone else,' and he said, 'Bullshit, get out there and coach them. Stop messing around!' So, I just walked out there and said, 'All right fellas, I'm your coach.'" And, just like that, one of the greatest eras the game has ever known was born.
The Carlton players describe Jesaulenko's coaching methods as brutal. For those who had played alongside him throughout the 1970s, the contrasts between Coach Jezza and Player Jezza were obvious almost immediately. Said Southby, "Jezza had to come up with a point of difference in his style in order to separate himself from just being a team member, and he did that by being relentless in his approach and his coaching style." In short: Do as I say, not as I did.
Forget Hawthorn coach John Kennedy's famous "Commandos" of the 1960s. What the Carlton players experienced during the 1979 pre-season must surely rank among the toughest training programs ever undertaken in the 121 years since the first recorded game of Australian football back in 1858. Indeed, terms such as relentless, persistent, unstoppable, sustained, severe, punishing and, above all, brutal, could all be used to summarise Jezza's coaching.
"On a Tuesday night, we'd train then we'd have to finish off with 20 laps of the oval," rover Rod Ashman explained. "If you were injured early in the week and didn't train, you had to do all of the training on the Thursday and then run 20 laps to prove your fitness." The running component was one area where the players were forced to repeatedly run distances that none had been expected to run in their careers to that point.
There was also an undetermined amount of Indian file running, where all players ran around the oval in a line, the last runner expected to sprint to the front, then the next runner goes, and so on. It's torturous stuff. Jezza also introduced weights programs and had truck tyres brought in, which the players were expected to drag by a rope tied to their waist. Oh, did I mention the tyres were weighed down with bricks? Yeah. What else? C'mon!
"I pushed them very hard through a lot of physical hard work: building up their weights and their strength," Jezza explained. "And a lot of players who were timid, as I call them, they did things that they didn't like doing: boxing and judo and karate, and pulling big tyres with bricks inside them."
There was method to his madness though, even if the players didn't see it at the time. "Not only was it a physical thing, but a mental toughening up program that we set for them." After flogging them for hours, Jezza would then call for one-on-one contesting work, where two players would fight for the one ball. It was last-man-standing stuff.There are many stories from the "pre-season from hell", but the Wayne Harmes story is one worth re-telling. "Harmesy was competing with somebody else," Vin Catoggio explained, "and he was that tired that he fell to the ground and couldn't get back up.
Jezza went up beside him and said, 'Harmesy, get up!' Harmesy said, 'I can't', and Jezza said again, 'Get up!' to which Harmesy said, 'F… you, I can't!' 'If you don't get up we're going to stay out here as long as you want,' so everyone was yelling, 'Harmesy, get up!' He dragged himself to his knees, then got up on his feet and went for the next ball and again fell flat on his face. It was incredible to watch."
NEXT week: How Jezza's brutal coaching methods began to work.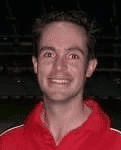 Author:
Dan Eddy
DAN EDDY is a storyteller with an impressive collection of works. He is the author of four books, including King Richard and Larrikins & Legends, and co-author of three more, including Champions and The Shinboners. 
He has a Master of Arts degree which explored the connection between Essendon champion Dick Reynolds and the Essendon community, and is a currently researching a PhD on another AFL Legend in Alex Jesaulenko. He is also a regular contributor to Inside Sport magazine, and has had articles published in the AFL Grand Final Record.
Comments
comments
0 comments